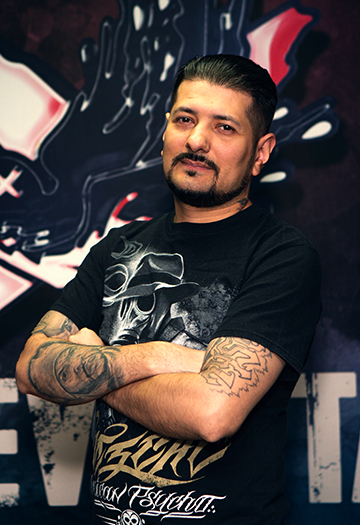 Hi, you can call me Barbu Marius aka Moshu Moku "since 1982". I started drawing ever since I was a child, left handed , of course... But in time, someone from the Ministery of Education made sure I used my right hand instead. I didn't have high grades in my drawing class, maybe because I was too busy drawing for my other colleagues,as life's irony.Now let's talk about tattoos! I started tattooing around 2000 with an improvised machine. Like most, I'm not really proud of my first works, but I had ambition. I then met Leo from Ploiesti, from whom I purchased some real equipment and almost started working in a professional way.Having a day job that took most of my time, I could tattoo only in my little free time. After two years, I decided to take tattooing seriously and I quit my day job. From 2008 and untill 2010, I worked alongside Leo from Ploiesti, which was a good experience for me. In 2010, Costi recruited me for his crew at Next Level Tattoos-" a proffessional team!"- which made me even more eager to evolve.

I still haven't established a certain style for myself. I'll tattoo anything, but the greatest challenges come from my clients. For me, tattooing is a way of life, this is how I make my living and spend my time...At times when I'm a little bit free, I love drawing and practicing my imagination.

All this being said, I don't want to bore you even more with my life story, I'm waiting to tattoo you really nice at Next Level Tattoos.You can bring your model, we'll still do our thing. In a nice environment, and in a professional way! I won't say another word, just come and see for yourselves!

"Jesus coming!!! Get inked!!! ".