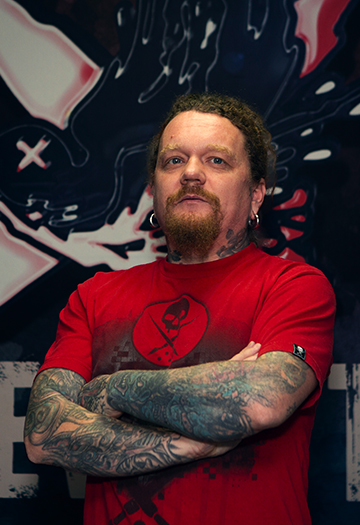 I was born in the month of march of the year 1979 in the town of Lupeni, Hunedoara. I discovered the art of tattooing at a very young age(about 15-16 years old,) when I got my first tattoo. Not long after this, I started playing with my first needles, on my friends and on myself. At first, with the traditional needle, and after that, with equipment made by me and my friends. After some time, I met my good friend Ovidiu from Sibiu. Helping each other we got to the point of having professional needles, tattoo ink and the so much needed tattoo machine. I started taking my job seriously, and investing money and more time, despite the discouraging words I received every day from my close ones.

In 1999 I opened my first tattoo shop in Targu Jiu. Around the year 2000, after a short visit in Germany, I opened a new tattoo studio in the middle of Targu Jiu town. In the year 2004, the foundation for the Proffesional Romanian Tattoo Artist Association was set, and so the first romanian tattoo convention," Transilvanian Tattoo Expo", took place. I was part of it as a member of the jury. Meanwhile I was travelling in the west side of Europe in an experience exchange, and in 2005 I collaborated with 2 tattoo studios in Cyprus.

In 2006, my tattoo studio was officially registered as the first Romanian tattoo studio, at the International Tattoo Convention in Wien . That was just the beginning.
In January 2007 I opened a new shop in Targu-Jiu, near the local Library. This year was one of success, on all aspects. I succeeded in making the first tattoo magazine in Romania- Tattoo Magazin- as a webzine, at first. Unfortunetely, in 2008 I was forced to close the old shop, but I managed to open a new one on Calea Eroilor, near Poarta Sarutului(famous monument). All went well! The new studio was bigger and easier to find.
Also in 2008 I participated at the International Tattoo Convention in Frankfurt, from where I came home with a prize. This one was won with Dan's help, a guy who loves tattoos and regarded tattoos as a serious investment. You can see him in the colour tattoos gallery.

This year was a rather busy one. Together with Ovidiu and supported by Bimbi, we managed to organize the first tattoo contest dedicated for those who make tattoos at home-"Undergrownd Tattoo Show". I also participated at numerous conventions from which I can mention the ones that took place in: Evian- France, Wien- Austria, Berlin- Germany ( were I had the great opportunity to get a tattoo from master Paul Booth- The Prince of Darkness).
Despite the very busy schedule, I didn't stop here, and while having a talk with my good friend Ovidiu Popartan, we planned to host an international tattoo convention right here in Romania, "Transilvania Tattoo Expo", in the town of Sibiu, mainly because of the tourism potential of the area.

I can't deny the fact that all this period of time I was thinking of opening a new tattoo studio in a different city, and with the help of my friends and local support of my "brother"Alex T. from Bucharest, I made this dream come true.
And so, on February the 15, 2009, my new project"Next Level Tattoos Costi" , Bucharest, was born, having Mornel alongside me. I called it a project because I want to invite well known artists and collaborators for an experience exchange here in my studio, in Romania, and in other countries. Then came a time in which I worked very hard. Ever since I opened the studio in Drumul Taberei, I couldn't get much sunlight, which was good. I was going in in the morning and coming out late at night… Most of my work was creating original artwork and large tattoos- of which you can see in the tattoo gallery. In the meantime, I was offered the chance to take one of the biggest tattoo studios in Romania, a well renowned one: Fashion Tattoo. I wanted to work in a bigger studio for a long time now, and made yet another of my dreams come true. My team got 3 new members: Beni- piercing and tattoo- for the studio in Targu-Jiu, Alex- Body piercer and Moshu-tattoo artist, for the new Next Level Tattoo Studio. And so, on May 1 st, 2010, I opened the gates of my new tattoo studio from Ion Mihalache Boulevard. This tattoo shop wasn't a whim or some ambition of mine, but only my hope that there is always room for more(and better). In this time I was invited at the Sunny Beach Convention in Bulgary. I was very pleased to see the Bulgarian artists at work. I also won the 3rd place at the Best Big Tattoo.
I managed to place the foundation to a new tattoo and piercing association: The Tattoo & Piercing Association Romania. Why? Easy. Because things have to start going in the right direction for the people in this area of work, in this country. So I decided with Constantin Adrian alias Fish Tattoo, to form this association.

Also in 2012 I put together the first International Convention here in Bucharest, one of the most important events of this kind from our country, and hopefully, soon to be, from Europe.
In 2012 at the International Convention in Frankfurt, I won 1st best of day in front of over 600 tattoo, what impressed me greatly and made me realize that tattoos made me passed another level. And the Vienna Convention in 2012 all took place 3 to catgory best of color, togheter with Boris and Chris Schmidt.

In early 2013, faced many difficulties, we managed to open salon Blvd Timisoara, Bucharest, where I do not want to move the long room.
in Burgas Tattoo Convention 2013 I won first place at the best of Crazy category.
From here on, my page stays open. I hope that I will be able to come before you with more tattoos, and accomplishments. For you, the ones reading these lines, I thank you for the interest you've shown and welcome you here!